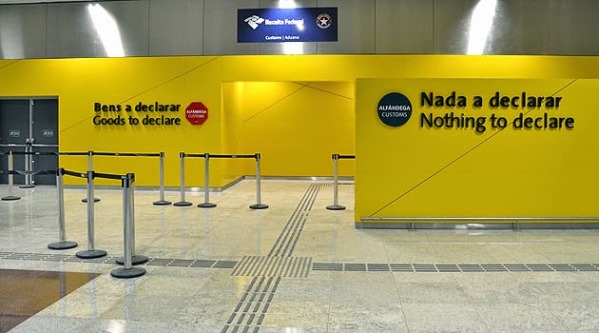 Brazil Airport Customs and Immigration
The most important thing when you arrive in Brazil is to have a valid visa with at least 6 months before it expires, if the Brazilian authorities require a visa for visitors to your country. If a passenger does not have the appropriate documentation upon arrival (passport, visa), he / she will be deported. Visas are not issued upon arrival in Brazil. Always confirm visa requirements before your trip.
When arriving at GRU Airport, vistors have to do immigration and customs declaration. Airline must distribute both immigration and customs forms to fill out before your arrival. However, it is recommended to download and fill out the forms before traveling.
In Sao Paulo (Guarulhos, GRU) both immigration and customs are on the lower level of the airport. Upon leaving your arrival flight, you can walk through the terminal, and then get off to immigration. In immigration you will have to present your passport and immigration form that you filled out. In addition to having your passport sealed, you will receive again half of your immigration form, stamped and sometimes with some written comments. You should be careful with this form, as it must be displayed when you leave the country.
After going through immigration, you will pick up your luggage (if you have marked any). The luggage delivery tapes have clear indications of the corresponding flights.
Then you will go to customs, which passes through the duty-free shop. If you are interested in buying something when you arrive in Brazil, it is recommended to leave your luggage with the store staff (who will give you a receipt) and then you can make your purchases. After shopping you must pick up your luggage and then go through customs.
There are two different doors at customs, as in most airports: the green line ("Nothing to declare") for those who carry allowed items (clothes, books, personal equipment, etc.) and the red line ( "merchandise to be declared" ) for those who are bringing some special items to Brazil, which will be described below. At this point you may be asked to deliver the customs form to the agents and open your luggage for inspection.
After going through customs, you will go to a public area where you can use a currency exchange or ATM machine (if necessary) and then arrange your transportation to your hotel.
Brazil Immigration and Customs Declaration Form
The official Brazilian immigration form can be downloaded in PDF. The form has an A4 format, using the screen layout.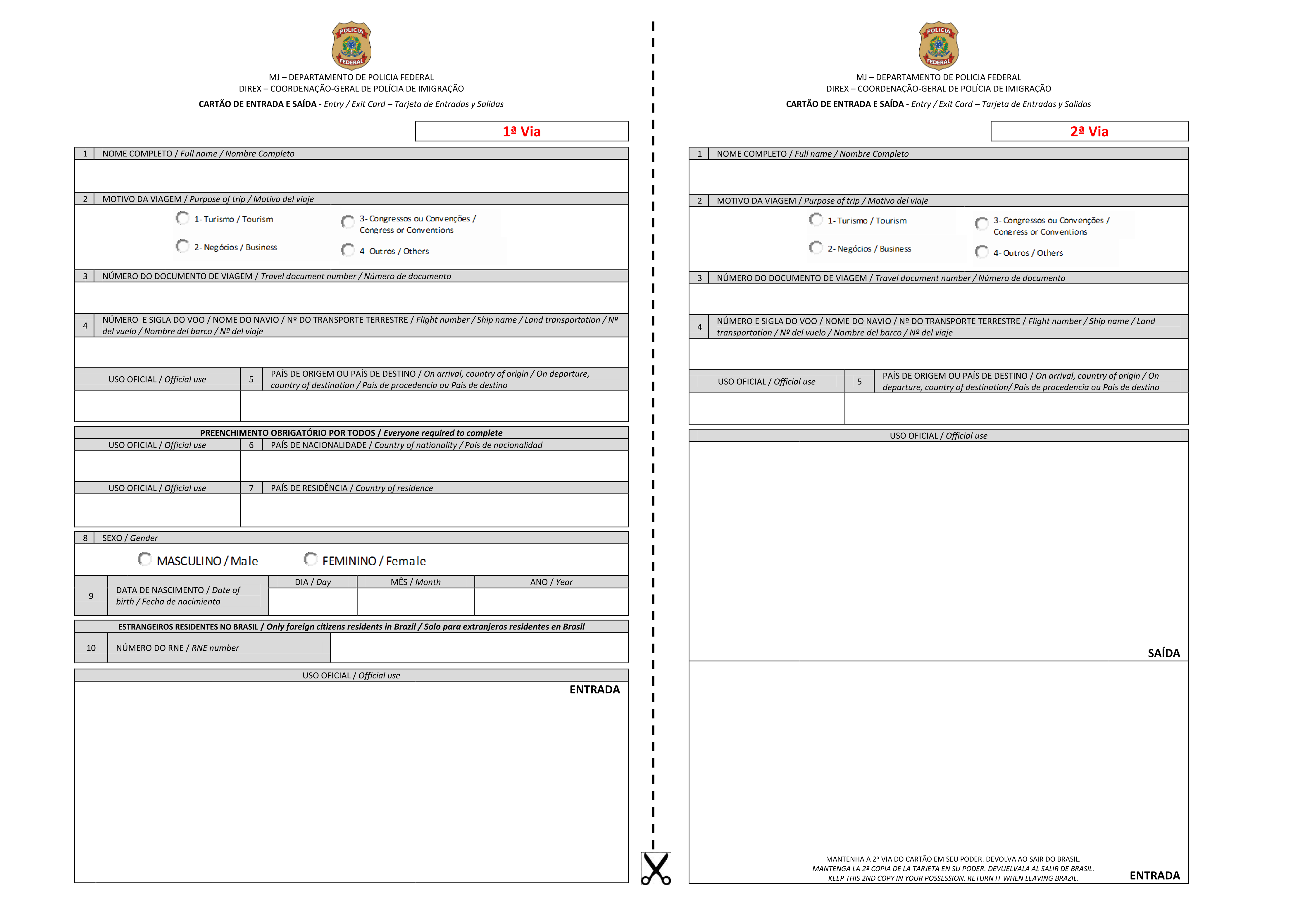 Brazilian immigration form, in PDF format
Brazilian immigration form in PDF
Your can fill out the form before printing it, or you can print it and then fill it out by hand. You can print it on either A4 or Letter size paper.
How to fill Immigration Form at airport (Imigração do Brasil)
In the case of writing, please write in capital letters and without crossing out. We recommend that you download the PDF format and use any PDF editor to fill out the form. Both the left and right sides of the shape must be filled (the fields that contain the blue rectangles shown below).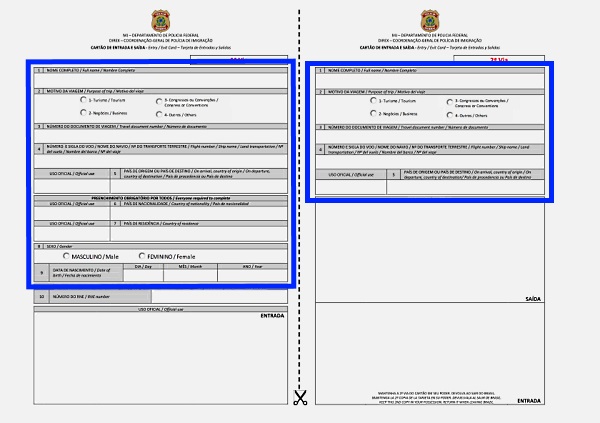 In immigration visitor will have to present your passport and immigration form that is filled out. In addition to having your passport stamped, you will again receive the right half of your immigration form, stamped and sometimes with some written comments. Visitor should be careful this form. This card must be presented to officials when leaving the country.
If someone not have passport stamped or lose copy of the registration form, they will have to be specially authorized by the Federal Police before they are allowed to leave the country and could receive a fine.
All citizens are both photographed and their fingerprints as part of their immigration removal process. This is because Brazil practices diplomatic reciprocity and processes American citizens who enter Brazil in the same way as the US. processes Brazilian citizens entering the United States. This is surely not the place to show any discontent with this process. If a tourist shows a lack of respect for officials, he / she can be arrested, fined (thousands of dollars) and expelled from the country forever.
Tax-free store at GRU Airport
When you arrive in Brazil (and also when leaving the country) you will be able to buy products in the duty-free store. In the presentation of your passport and the ticket, you will be allowed to buy up to US$ 500 worth of tax-free products, including beverages and tobacco.
At Guarulhos airport, even if you do not want to buy something at the duty-free store in Brazil, you will have to go through it to get to the customs exit.
Brazil Customs, Currency Details
Most tourists who enter Brazil do not have to complete a customs form and can only pass through the "nothing to declare" (green line) through customs.
In some cases, however, you must fill out the EDBV customs form, and present this form and your luggage for inspection in the "Products to declare" (red line) of customs.
The following questions will allow you to determine that you will pass through "red" or "green" line.
If a visitor have one of the following in there luggage:
Animals, vegetables or their parts, by-products of seeds, animals or vegetables, veterinary or toxic products?
Medical products, in vitro diagnostic products, cleaning products, biological material?
Medications, except those for personal use, or food of any kind?
Firearms or ammunition?
Goods for commercial or industrial purposes or for those who will undergo customs clearance procedures by their owner ultimately?
Goods worth more than R$ 3,000.00 (land, river or lake border crossing) (by air or sea) or any value, for temporary admission? (Non-residents only)
Taxable merchandise (see General Information section)?
Currencies (cash, checks or traveler's checks) in an amount of more than R$ 10,000.00 or its equivalent in a foreign currency?
If you answered NO to all questions, you do not have to fill out the customs form, and you can choose the NOTHING TO DECLARE row.
If you answered yes to any of the above questions, you must fill out the EDBV customs form and choose the ROW OF PROPERTY TO BE DECLARED.
You can find detailed information in English about Brazilian customs regulations and electronic forms of access and smartphone applications on this link.
According to Brazilian customs regulations, there is no need to declare the following elements:
Books, brochures and newspapers.
Clothing and objects of travelers for personal or professional use.
Goods purchased abroad, worth up to US$ 500 (this applies to new products in their original boxes).
Goods purchased in duty-free stores upon arrival in the country.
Restrictions and Prohibitions at Brazil Airport Immigration
Prohibited merchandise:
Narcotic drugs, psychotropic substances and the like
Alcoholic beverages and tobacco products, for travelers under 18 years of age
Cigarettes or alcoholic beverages of Brazilian origin, bought abroad
Counterfeit or pirated goods
You cannot take non-industrialized vegetables and / or products of animal origin to Brazil. It is highly recommended to avoid the entry of any type of food. If you carry any medication, you must also bring your prescription signed by a doctor, with your name and instructions for use.
Products subject to sanitary inspection or animal / plant origin will only be released after the authorization of the National Health Surveillance or the Ministry of Agriculture.
Brazil Airport Tax regulations details
If you bring several identical items to Brazil that can be sold, or if you bring many new things, for more than US$ 500, you must fill out the customs form and submit the form and goods of the customs officials.
All newly acquired products that have been purchased abroad, on board ships, aircraft or in duty-free stores abroad valued at more than US$ 500 are taxable. The exemption limit is personal. Passengers traveling with family members (spouse and children) cannot combine their personal exemptions. The tax / tax is 50% on the value that exceeds the above-mentioned exemption limits. The tax will be assessed by customs officials and its payment is a condition for the release of the goods.
CURRENCY (CASH, CHECKS OR TRAVELER'S CHECKS) IN AN AMOUNT OF MORE THAN R$ 10,000.00 (about US$ 3,000)
There is no limit on the amount of money that anyone can put in Brazil, but if you are carrying R$ 10,000 (ten thousand reais) or more, or its equivalent in cash, checks, traveler's currency or any combination thereof, which are required to declare upon entering Brazil. This is not for tax reasons. They just want to know.
If you are bringing a large amount of money to Brazil you must fill out the EDBV Customs Form and choose the goods to declare channel.